Triumph Workshop provides the tools, knowledge, and connections to foster a community of creation, innovation, and success.
A community makerspace in the heart of Dallas, Triumph Workshop features a Metalshop, Woodshop, Innovation Lab, Artisan Space and Collaboration Areas.  Instructors teach tool-use and safety classes, and staff members are regularly available to answer questions. The facility is open 24 hours a day, seven days a week to members who are hobbyists, entrepreneurs, students, and those learning trade skills. Although full access to Triumph Workshop requires a membership, most classes are open to the public and can be found on the class calendar.
While the equipment is state of the art and the facility is top-notch, the heart behind it all is what matters most. Triumph Financial established Triumph Workshop as a way to serve the city of Dallas by providing adult building trade education, hosting camps that expose young people to new opportunities, and establishing partnerships with nonprofit organizations that allow the bank to reach beyond the walls of Triumph Workshop. This makerspace is unique because although many things are made at Triumph Workshop, the most important thing created is a positive impact on the community.
Triumph Workshop is located in Dallas near Love Field Airport:
2501 Burbank Street Dallas, Texas 75235
Members have access to the building and equipment 24 hours a day, seven days a week using their unique access code.
Non-members are welcome to tour Triumph Workshop during regularly scheduled tours which are typically* offered Thursday evenings at 6:30pm – see calendar.
*RSVPs are required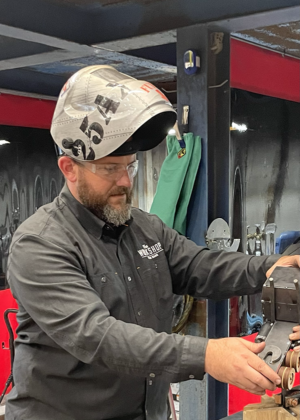 Cody Seabolt, Director
Cody graduated from Texas A&M University and began his career as an educator teaching woodworking, metal fabrication, and technology classes. Later, he worked as a central office administrator in Dallas ISD, successfully ran his own construction business, and managed a year-long mission project in Belize.
After returning to Dallas, Cody mentioned to a friend that he would like to eventually open a community makerspace and workforce development center. Triumph Financial's leaders heard about Cody's idea and decided it would be a unique way for the enterprise to serve the community. Cody was hired in 2018 to build and manage the facility; he works closely with and Triumph Financial and TBK Bank to ensure their values-driven philosophy is carried out in all that's done at Triumph Workshop. In addition to his role as Triumph Workshop's Director, Cody travels nation-wide leading Triumph's BBQ team and also manages special projects.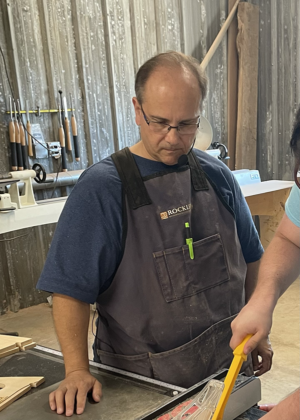 Chris Ghaly, Technology and Membership Coordinator
Chris had a distinguished career in IT with Fidelity Investments and retired to start his own CNC and manufacturing company. Chris joined Triumph Workshop the day it opened, and became such a valuable asset that he was asked to come on board in an official capacity. Chris' favorite part of Triumph Workshop is the woodshop and CNC router, and he really enjoys being around so many creative people each day. When not at Triumph Workshop, Chris can be found traveling with his wife, Anna May and their son and daughter-in-law.
Chris has said, "When leadership creates an environment where creativity, integrity, innovation, and good people meet, great things will naturally happen. This perfectly describes why this is a great place to work"