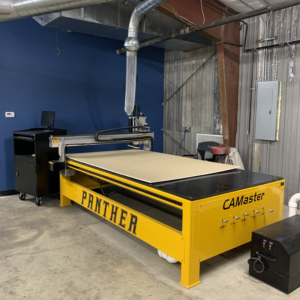 In this class, students will learn to operate the CAMaster CNC Router in our woodshop and learn the basics of using VCarve Pro software.
Computer Numerical Control (CNC) Routers are used to cut many types of materials, such as wood, plastic, aluminum, and high-density foam. Since they on computers, CNC Routers are faster and much more precise than most humans at the subtractive manufacturing process.
Students (18+) must attend class both nights – Tuesday, October 3rd and Tuesday, 10th –  then schedule a one-on-one proficiency checkout at a later date. Space is limited, CLICK HERE TO BUY A TICKET.
Ages: 18+
Cost: $125, includes one-on-one checkout at a later date
Prerequisite: None
Instructor: Chris G.
Open to the public, but only members can use the equipment outside of class time.
Class may be cancelled/rescheduled if minimum class size is not met 3 days prior.