Triumph Workshop is located at 2501 Burbank Street in Dallas, Texas – at the corner of Denton Drive and Burbank Street.
Guests are invited to explore Triumph Workshop during regularly scheduled tours that can be found on our calendar and listed below. Tours are open to people of all ages, generally last about 30 minutes, and are offered most Thursday evenings. Tours of Triumph Workshop are free, but advanced registration is required.  If you are unable to attend a regularly scheduled tour, please send an email to info@triumphworkshop.com.
Guests can also visit Triumph Workshop during classes they've registered for on our calendar. While tours can sometimes be given before or after a class if a staff member is available, guests should register for scheduled tours to ensure they can explore the full makerspace.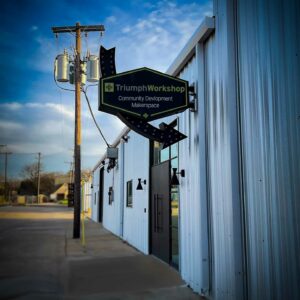 Triumph Workshop
2501 Burbank St., Dallas, TX
Take a tour of Triumph Workshop to see the equipment and learn how projects come to life in this community makerspace. The industrial-chic aesthetic not only looks cool, but the space […]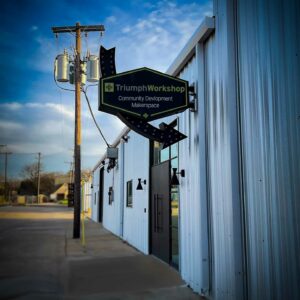 Triumph Workshop
2501 Burbank St., Dallas, TX
Take a tour of Triumph Workshop to see the equipment and learn how projects come to life in this community makerspace. The industrial-chic aesthetic not only looks cool, but the space […]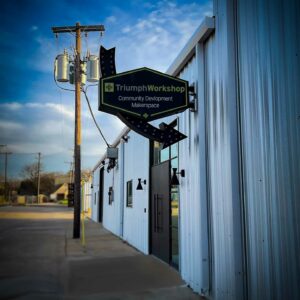 Triumph Workshop
2501 Burbank St., Dallas, TX
Take a tour of Triumph Workshop to see the equipment and learn how projects come to life in this community makerspace. The industrial-chic aesthetic not only looks cool, but the space […]